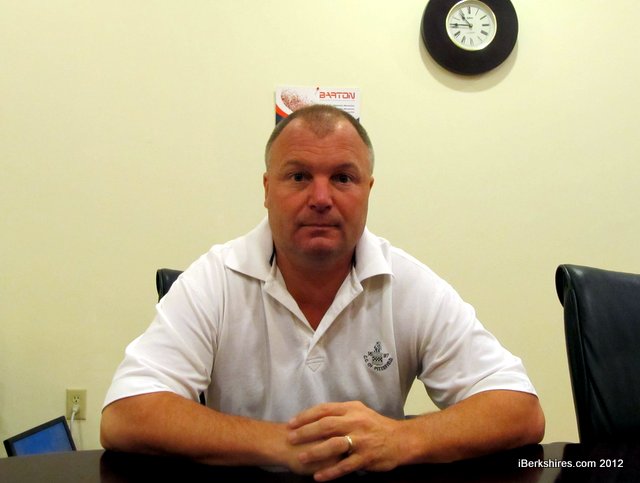 By Andy McKeever
iBerkshires Staff
LEE, Mass. — It is a tale of war, out-of-town investors, explosions and employees on the verge of pink slips that led a local businessman to risk his own money to save a bankrupt company in the Berkshire Hills.
After watching an investment company jack up Patriot Armor's overhead costs and then locking the doors, the company's lead salesman Tom Briggs put his own money down to buy the company, bring it back to life and save 40 jobs.
"I went to the bank who owned all the equipment and offered to purchase it all just to keep this business going. We had a huge backlog and they just closed the doors. They took all the money and ran," Briggs said on Thursday. "We tried getting loans but being a new company trying to buy a bankrupt company, we had to wait four or five months."
The company that specialized in laminating and cutting bulletproof glass for the military, armored vehicles and embassies, was formed in 1993 as an offshoot of Protective Armored Systems by Briggs' stepfather Phil Martino.
It started in Pittsfield then moved to a small facility in Lenox Dale in 2003 — two years after the start of the War on Terror that increased the company's demand — and moved to a larger building at its current location, just across the street on Valley Street. At its peak during the war, the company was doing nearly $12 million annually.
"[Martino] sold Protective Armored Systems and we were both working there. So I came here with him in 1998 and we built the business up from $750,000 a year to when he sold it in 2007, they were doing close to $9 million a year," Briggs said.
Connecticut-based Main Street Resources purchased the company in 2007 for an undisclosed amount. Briggs said the new firm added nearly $1 million in payroll expenses for salesmen and managers that the workers barely saw as well as rack up about $4.5 million in debt.
"They increased the overhead fourfold. They brought all of their employees in and gave them big salaries and we just couldn't keep up with it," Briggs said. "We went from a very successful company when they took over to a basically bankrupt company."
In 2008, the company took another hit when one of the autoclaves used to heat and pressurize glass exploded. The company was shut down for two months and the business was shifted to a smaller location, where it would stay for another six months.
"It took us about a year to recover from that," Briggs said. "It put us behind a few months because we didn't do anything here for two months. We probably lost a few customers."
By mid-2011, Briggs saw the company heading for bankruptcy. Since purchasing the company then would inherit the debt, he waited until the investment company locked the doors and handed the keys over to the bank.
"I could see the good side of the company, the potential and I wanted to keep all these employees working," Briggs said. "I was here for 10 years before that and we made profit after profit."
Briggs could not find a bank that would loan him the capital to buy the company or to operate it. Briggs, with another investor, Mike Bianco, then put up their own money.
On Sept. 12, 2011, just two weeks after the doors were locked, Briggs unlocked the doors to his own company.
Yet, there was still nearly four months of backlogged work from the proceedings to be caught up in order to keep customers; the material suppliers demanded cash up front after being burned by the former owners.
"The company had the look, the feel and the smell of the old company," general manager Ralph Tessone. "We were on C.O.D (cash on delivery) with just about everybody."
The workers put in massive amounts of overtime and the new owners brought in temporary workers to catch up. By January of this year, the work was caught up and Berkshire Bank granted them the line of credit they needed.
"Right now we are very financially strong and we're making good profit," Briggs said. "We've got a lot of government contracts coming up. Our customer base is stronger than ever and we're hoping to do $7 [million] – $8 million this year."
Staffing is at 35 employees as of Thursday but Briggs and Tassone said they are in the process of interviews to add some more — bringing it back up to the 40 they had previously. The company just received some "large contracts" that will keep them working until April 2013.
While Briggs did not want to reveal too much about the contracts, he said most of the work they do is with the Marines, the Army, and embassies. They're currently working on the glass for the White House visitors' center and have supplied glass for businesses and government buildings across the country.
"Our goal is to just grow slowly. We don't want to get too big where we jeopardize our quality. We just want to keep putting a quality product out and keep our customer base happy," Briggs said.